NEWS
Justin Bieber on Creating a Women's Fragrance: "I Wanted to Be Smelling the Girls' Necks"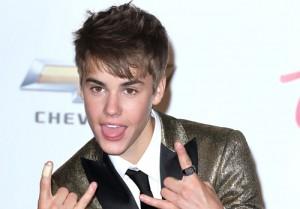 This morning on Ryan Seacrest's radio show, Justin Bieber was on to talk about the premiere of his new fragrance "Someday." Justin told Ryan exactly why he created the fragrance.
OK! VIDEO: WATCH JUSTIN BIEBER KISS SELENA GOMEZ AT BILLBOARD MUSIC AWARDS
"I wanted to do a fragrance for women because I wanted to be smelling the girls' necks," Justin candidly told Ryan on the show. He also said he wanted to create one "that would make me want to chase the girl I smell."
Article continues below advertisement
Hopefully Selena Gomez is wearing it!
"I think it's better than doing it for other guys at this point. I'm looking for a fragrance I'm going to like on a woman."
Did he practice spraying anyone? "Well, we sprayed it on the girl in the video. My mom really likes it." When Ryan alluded to maybe spraying it on Selena, Justin played coy, saying they spritzed it on "different girls and whatnot."
He couldn't exactly explain the smell yet (although he says it's not too strong). His best description was that "it just smells good."
OK! NEWS: JUSTIN BIEBER LAUNCHES WOMEN'S PERFUME — "THE WAY A GIRL SMELLS IS VERY IMPORTANT!"
Justin revealed that the commercial will debut during the season finale of Glee. The commercial for "Someday" was shot in a zero-gravity plane. "To be honest I got really sick when I was up there," Justin revealed.
When Ryan asked who would be the perfect spokesperson for the fragrance Justin said, "I don't know yet." He also was adamant that "it's not just a young girl's perfume." He said that as much as it is being targeted for teenagers, he thought that moms would be secretly buying it for themselves!
Article continues below advertisement
He also told Ryan that he was going to get him some so he "can give to (his) girl and spray it on there." Lucky Julianne Hough!
OK! NEWS: JUSTIN BIEBER THROWS UP DURING CONCERT IN MANILA
Will Justin be launching any more beauty products? "Not right now, not at the moment. The fragrance is a big thing for me. I'm excited for the launch."
With Justin just coming back from his world tour, Ryan asked him what the first thing he wanted to eat in the U.S. was? Justin said, "I'm so glad to just eat regular food. I wanted In n' Out!" His voice is also getting deeper, to which Justin remarked to Ryan, "It's a little thing called puberty."
He was also asked if absence makes the heart grow fonder. Justin said, "It does."
Proceeds from Justin's perfume "Someday" will benefit Pencils of Promise and Make a Wish foundation. It will be available on June 20.