NEWS
Justin Bieber Explains New Hairstyle on 'Today': "I'm Just Messing It Up Now"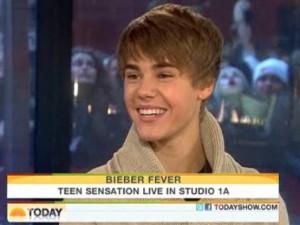 Justin Bieber made a special appearance on the Today show this morning to talk about his upcoming film, Never Say Never. But aside from the movie, Justin also talks about his hair and answers a question from a fan!
OK! NEWS: JUSTIN BIEBER CHANGES HIS HAIR; LOOKS LIKE ROBERT PATTINSON!
"There's a rumor going around that you may cut your hair, is that true?" Matt Lauer asks Justin on Today.
"No, well actually I'm just messing it up a lot," Justin explains. "Before usually I had it just flat everything regular shape but I'm just messing it up now."
Article continues below advertisement
"No, I'm not shaving it," he added.
OK! NEWS: JUSTIN BIEBER'S HEADED TO THE SUPER BOWL WITH...OZZY OSBOURNE?
And then Today picked one lucky girl from outside to come inside the studio and ask Justin a question.
"Aw, don't cry," Justin says as he gives Melissa a big hug and gives her his 3D purple glasses.
"What do you miss about being a normal kid?" she asks.
"I miss being able to just go home and just relax, be with my family and not doing anything for awhile," Justin says. "But I love what I do and everything is amazing. I love putting smiles on people's faces and stuff so it's fun."