NEWS
Justin Bieber Explains Photos: "I Was Just Kissing Her!"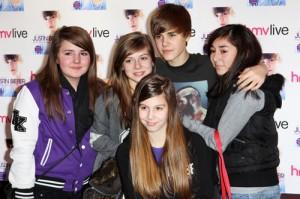 Justin Bieber has been rumored to be dating his "Baby" co-star Jasmine Villegas and was even supposedly photographed kissing her, but has never confirmed they're dating. For Barbara Walter's "10 Most Fascinating People of 2010" with the Biebs she decided to confront him!
OK! GALLERY: JUSTIN BIEBER ARRIVES LATE TO THE IRONIC MUSTACHE GAME
Based on the photographs from late September, Justin was caught making out with Jasmine in the back of car. So were the photos lying?
Article continues below advertisement
"I was kissing her," Justin explained said in a preview of his interview that aired on The View on Wednesday (via MTV News). "Well, I was just, I don't know, I was just kissing her. That's about it."
Was he surprised the photos made it onto the Web?
"I don't know. I didn't even know anyone was taking pictures," he said. "It just kind of happened and I don't know."
"It's not really weird," he added. "Is it weird? I think every 16-year-old kisses a girl, right, so that's not nothing out of the ordinary."