NEWS
Justin Bieber Freestyles He's Got "The Number One Chicks"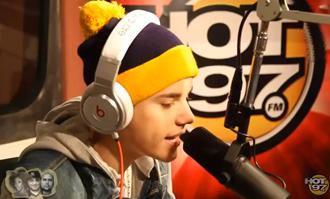 Justin Bieber's rap skills have struck again! The superstar singer visited New York's Hot 97 radio station and showed off once again his impressive freestyle skills.
OK! GALLERY: CALLING ALL BELIEBERS — CHECK OUT OK!'S ULTIMATE JUSTIN BIEBER GALLERY!
He rapped on Hot 97, "Number one hits, I got number one flicks, and the number one kicks and the number one chicks/ People say I'm white so I couldn't do it like this/ Checks like Nike let me give you a good night kiss/ I'm so much cooler you should call me Ferris Bueller."
Article continues below advertisement
He also talked about how his life has changed since the start of his career. "I'd never been on a plane before. I didn't travel. I didn't really have a lot of money. Now being able to travel and see the world — It's incredible."
OK! NEWS: JUSTIN BIEBER'S MESSAGE TO VICTIMS OF BULLYING: "STAND STRONG"
Asked if his level of fame ever gets annoying, Justin said, "Sometimes it gets overwhelming, but you just have to take it one day at a time and remember that God has blessed me with this. Just take it as it is."
When told he was humble, Justin remarked "Canadians are all nice."
Justin also said he grew up loving hip-hop and Tupac especially. He also is "bros" with rapper Drake. "It's crazy to work with all these hip-hop legends," Justin remarked. "That's what I like, that's the kind of music I like, so to be able to have them be on my album..."
Justin has already recorded with Raekwon, and Kanye West is rumored to be on his next album Believe, which is supposed to come out next summer.