NEWS
Justin Bieber Gets Cozy Courtside with Beyoncé & Rihanna at NBA All Star Game!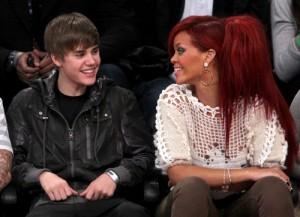 Bieber Fever took over the NBA All Star Game Sunday night at the Staples Center in L.A. Justin Bieber took in all the action courtside and was chatting up two of his favorite female artists — Beyoncé and Rihanna. (Watch out Jay-Z!) The Biebs also took some jump shots from the sidelines and battled it out with Chicago Bulls mascot 'Benny the Bull'!
"great night courtside at the All Star game... @kingjames with the triple double and my guy KOBE with the MVP!! #greatbasketball" Justin, who took his dad to the game, Tweeted.
Article continues below advertisement
And Lord Bieber, JB's dad Jeremy Jack Bieber, took to his Twitter to let followers know he was taking in the action with his superstar son.
"Allstar game courtside was sick sat between 2 of the hottest gals in the biz!" he Tweeted.
JB also played in the celebrity All Star game on Friday and did quite well despite his small stature.
Does he have a future in the NBA?
"He got to grow a little bit more, but he has some moves that was pretty impressive," all star Dwayne Wade told reporters on the carpet before the big game. "He is the kind of kid that lives for that moment."
The Miami Heat star also said he wouldn't get on Biebs bad side.
"Well if I get crossed over by Bieber, that's a bad thing, but if I get crossed over by Tony Parker, he is supposed to do it," the b-ball star quipped when asked who he was more afraid of, Beiber or the Heat's rivalry with the San Antonio Spurs!
Besides the Biebs, Lil Wayne, Nick Cannon, Sean 'Diddy' Combs, Keri Hilson, John Legend, Christine Teigen, Warren Beatty, Jack Nicholson and Noah Wylie.
Catch the NBA All Star Game Halftime Show in the clip below featuring Rihanna, Drake, and Kanye West in the clip below.