NEWS
Justin Bieber Performs 'Rockin' Robin' at Michael Jackson Tribute in Hollywood!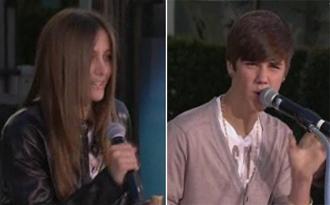 Justin Bieber made a special appearance at the late Michael Jackson's hand and footprint ceremony at Grauman's Chinese Theater in Los Angeles, Calif., today to pay tribute the the King of Pop. Michael's three kids, Prince, Paris and Blanket, were all their for the touching tribute, which will immortalize the singer, along stars like Cary Grant and Marilyn Monroe.
OK! GALLERY: JUSTIN BIEBER RINGS IN 2012 WITH LADY GAGA AT TIMES SQUARE IN NYC!
Article continues below advertisement
"I want to introduce you all to a performer who also found stardom at a very young age, just like my Dad," Paris announced to the crowd. "My father would have been proud to mentor to someone like him and would be very proud that he came to today's celebration. We are all very big fans of him, and his music, I know I am," she added coyly, "so everyone please welcome Justin Bieber!"
Justin made his way to the stage and shared a few touching words with the audience before singing an acapella version of "Rockin' Robin."
"I don't usually get nervous, but I'm kind of a little right now," Justin said. "Michael meant so much to me. I know he meant a lot to you guys as well. He was more than entertainer. He was an inspiration. He was kind, gentle and very charitable. People are going to remember him for his dancing and singing, but people have to remember him for being the man he was."
Justin added that he used to stare in the mirror and sing "Rockin' Robin" as a kid and that he wanted to share the song with everyone there celebrating Michael's incredible life and career. "Thank you so much. Have a blessed day. Michael, I love you!" Justin said, after he exited the stage.
Article continues below advertisement
OK! NEWS: MICHAEL JACKSON'S KIDS TO HONOR THEIR DAD TODAY IN HOLLYWOOD
After the ceremony, an emotional Justin took to his Twitter, writing, "just left the Michael Jackson ceremony...i dont get nervous usually but i was really nervous. to be with his family. he was the greatest!" Adding later, with a link to the music video for "Thriller": "make it trend. all of us should give him the tribute he deserved. To THE KING OF POP. Michael thank you. #MJ FOREVER."
Watch Justin's performance HERE!