NEWS
Justin Bieber & Rebecca Black Nab Nominations for MTV's First O Music Awards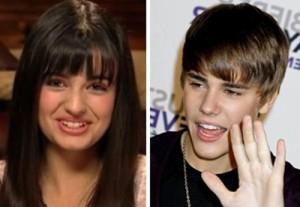 MTV announced the categories and nominees for its new Internet-based awards show, the O Music Awards today, a new kind of show being "a celebration of digital music." With categories like best fan cover, most viral dance and best music hashtag meme (think Twitter) it's no surprise that 13-year-old Internet sensation Rebecca Black and Andy Samberg's comedy troupe, The Lonely Island crew are among nominees. So who leads the pack?
Article continues below advertisement
Lady Gaga of course.
Gaga and rapper Tyler the Creator are among the nominees for most innovative artist and must-follow artist on Twitter. Lady Gaga is also nominated for favorite animated GIF, a kind of avatar, the Associated Press reports.
OK! GALLERY: JUSTIN BIEBER HIDES IN HIS HOODIE IN MADRID
Tyler the Creator, of the much buzzed-about hip-hop group Odd Future, is also nominated for his remix of Lykke Li's "Follow Rivers."
Justin Bieber is also up for a slew of awards including the prestigious Fan Army FTW, honoring the artist with the most rabid and loyal fan base on the Web — Lady Gaga's Little Monsters, Katy Perry's Bandaids, Justin Bieber's Beliebers, etc.
Winners will be decided by fan voting though social media outlets, with the results shown in real-time, and the awards will be presented in a live hour-long webcast April 28 on MTV websites and mobile apps.
Article continues below advertisement
"Some elements of this will be experimental," said Dermot McCormack, head of digital media at MTV Music Group, in a statement, via the AP. "If there is such a thing as a beta award show, this is it."
Several of the awards will go to fans and pets. In the best animal performance category, there are nominees like a parrot dancing to Willow Smith's song "Whip My Hair."
"We're really launching a new franchise here, something that we're investing in," says Shannon Connolly, vice president of digital music strategy for MTV Music Group.
Other nominated artists include Kanye West, the Flaming Lips, Nicki Minaj and Arcade Fire. Among the non-artist nominees are the comedy site Funny or Die and the music discovery service Pandora.
"We won't be judging by how many streams we do on several websites," added McCormack. "We will be judging it by how much we can affect the conversation around digital music in the lead-up and beyond."
Watch some of the nominees below!
Rebecca Black
Tyler the Creator
Antoine Dodson
Andy Samberg and his Lonely Island crew