NEWS
Justin Bieber: "Sometimes You've Got to Let the Girl Win"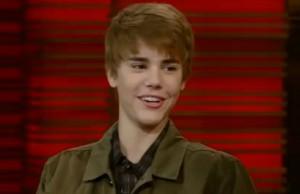 On Thursday's Live! With Regis & Kelly, not only did Justin Bieber teach Regis Philbin and Kelly Ripa how to dougie, he revealed Usher's advice about girls!
OK! GALLERY: JUSTIN BIEBER BREEZES THROUGH THE BIG APPLE
When Justin mentioned that Usher had given him "big advice" Kelly needed to know what it was!
Justin then sheepishly replied, "Just sometimes you've got to let the girl win." Kelly liked this but told the Bieb, "Not sometimes, you always have to let the girl win."
Article continues below advertisement
Justin also talked about his musical influences including Michael Jackson.
"I look up to Michael Jackson," he explained. "He's definitely my number one inspiration. I think he's just so likable by so many people. You don't have to be old or young to like him. Everybody liked Michael Jackson."
Who else does Justin like? "I would like to work with Eminem. And I would like to work with Beyoncé."
Regis told Justin, "Who wouldn't like to work with Beyoncé? You know what I mean?"
Maybe they'll be able to get together at next weekend's Grammys!
OK! NEWS: LISTEN TO JUSTIN BIEBER & SEAN KINGSTON'S NEW SONG, "WON'T STOP!"
Justin is still busy promoting his new film Never Say Never 3D which comes out Feb. 11. Regis and Kelly both said how much they enjoyed the film and how lucky he is to have good people surround him.
Justin is definitely aware of his good fortune saying, "It's amazing to just have such great people surround me and not just be focused on my career but making me a good person at the end of the day."
Watch a clip from the show below!