NEWS
Justin Bieber Talks Tattoos and the "Sixteenth Chapel" on 'David Letterman'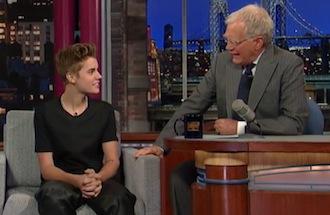 Justin Bieber receives so much flowery praise and unadulterated flattery, that it was a little satisfying to see him get roughed up a bit on David Letterman last night.
OK! GALLERIES: JUSTIN BIEBER CELEBRATES THE RELEASE OF BELIEVE IN NYC
The late night host spied a fresh "Believe" (the name of his third album) tattoo on the singer's arm and frowned in disgust over the new ink.
"Oh, God! How many do you have?" Dave asked him.
Article continues below advertisement
The Biebs shrugged and assured him "only has a couple" which led Dave to make the tween pop star promise it would be his last.
"How does that help how you look to have a tattoo?" demanded Dave.
"It doesn't not help the way I look," Justin fired back with a huge grin on his face. "Yesterday my album came out, and it was an important day for me so I got "Believe."
Dave then lunged at him, grabbed his arm and attempted to rub the word, causing Justin to recoil and protest in disgust and call him "Grandpas."
"Just don't go nuts," Dave said. "More and more you see a mural... like the Sistine Chapel... it's too much!"
OK! NEWS: JUSTIN BIEBER: WITHOUT MY FANS, I WOULD HAVE QUIT MUSIC
Justin then nodded and assured the funnyman he wasn't going for "the Sixteenth Chapel."
Hmm. Whether or not J. Biebs knew he flubbed the name of the famous landmark in Vatican City is up for interpretation.
Check out the video below and tell us what you think!