NEWS
Justin Bieber's Hot Bod Creator, Dolvett Quince, Joining 'The Biggest Loser'!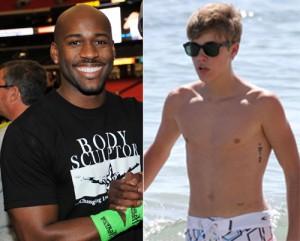 You know that toned body you just saw Justin Bieber flaunting during his makeout sessions with girlfriend Selena Gomez in Maui? You can thank his trainer, the handsome and ripped Dolvett Quince for getting The Biebs beach-body ready. And it looks like Dolvett's career is about to skyrocket as he has just been announced as one of the new trainers who will replace Jillian Michaels on the NBC hit The Biggest Loser!
Article continues below advertisement
Dolvett has a pretty hefty celebrity client roster — ranging from JB to Janet Jackson — and he is thrilled to be taking on the challenge of training on TBL.
"I couldn't be more excited about joining The Biggest Loser as their newest trainer. This amazing opportunity allows me to use my expertise to change lives one rep at a time, and encourage contestants — and viewers — to find strength beyond muscle," he shared of his new gig, via E! Online.
According to E!, Dolvett joined Justin on his My World tour last year and he wasn't easy on the 17-year-old pop sensation, putting him on a workout regime that included chin-ups, bench presses and stretches.
The fitness expert grew up with three siblings in the foster-care system in Stamford, Conn. He and his siblings were adopted by a Jamaican couple.
Article continues below advertisement
Dolvett is the founder of an Atlanta workout studio called Body Sculptor and has been a "master trainer" in that city for a decade, E! reports.
Last week, Anna Kournikova was confirmed as another new TBL trainer who will join veteran Bob Harper.
While Jillian will certainly be missed, she is looking forward to the next step — co-hosting on the show The Doctors.
"My job as a co-host is to do more emotional work with people and Dr. Phil will use me as a life coach and a nutrition expert," she told OK! recently. "All of that will be so much fun! Dr. Phil is the ultimate mentor, I love him! I have been close to his family for years. I am so grateful."