NEWS
Justin Bieber's 'Someday' On Track to Be Most Successful Celeb Scent of All Time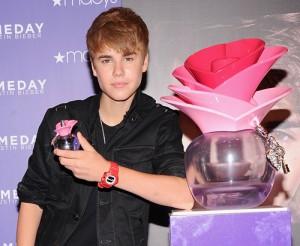 Justin Bieber had a very modest mission — make girls smell fruity and flowery. His goal lead to "Someday" which turned into what is projected to become the most successful celebrity fragrances ever.
The Biebs is on track to beat out Elizabeth Taylor, Jennifer Lopez, Beyoncé and Britney Spears with his scent for women, "Someday."
Women's Wear Daily reports that since the June 23 launch of Justin's scent, it has made more than $3 million dollars for Macy's.
Article continues below advertisement
If the sales continue to climb at this rate, "Someday" could be the number-one selling fragrance of 2011.
Leave it up to The Biebs!
And to think all Justin wanted was to make girls smell good!
"I just think that what we decided to do — making the fragrance for females, not getting a cologne for males — I said it before and I'll say it again: I'm more concerned about how girls smell because I'm a guy, and I know what smells good, and I know what I like, so girls should know, if I like it, then other guys are going to like it," he told MTV news on the purple carpet at his launch in July.
Are you part of the "Someday" hype?