NEWS
Justin Long and Drew Barrymore: Very Much On!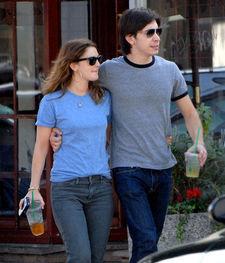 Drew Barrymore has been getting her mac on with her new boytoy, one-time Apple plugger Justin Long for the past month, and it seems like the He's Just Not That Into You stars are still into each other.
"I've been very fortunate and I just feel very blessed and happy, and I think things are good personally, not professionally, but personally," Justin carefully reveals at the Live Free or Die Hard press junket.
Article continues below advertisement
The 29-year-old wouldn't divulge any more details about his private life, except to note he's been an admirer of the 32-year-old's work and that his arm is doing "great" when told the actress has been spotted on his arm around town.
"My arm has never felt better," he jokes.
Neither has his career. After fighting alongside Bruce Willis in this summer's fourth installment of the Die Hard franchise, he's now working with, in addition to Drew, Jennifer Aniston, Ben Affleck, Kevin Connolly, Jennifer Connelly and Ginnifer Goodwin in He's Just Not That Into You, based on the best-selling book.
What makes it even more special is that he had to fight for his role of the jaded romantic. The actor was offered another part but believed he had the experience to play the guy "who is like, 'He's just not that into you.'
"I lobbied for this part because I was like, 'Listen, I know what this guy knows. I've been through relationships and am just getting out of my longest relationship which was three and a half years,'" Justin says. "And I kept talking about how much I learned and how it had affected me. And that's who this guy is."
Working on the film has been an eye-opening experience too — in more ways than one. "Kevin Connolly and I were joking around about us being the guys in the movie. There were all these actresses coming in and out during the makeup test — beautiful... Kevin and I were like, 'What are we doing here?' We were laughing at how absurd it was that we were in this company. It's a great cast."