NEWS
Justin Theroux Begs Jennifer Aniston for a Second Chance!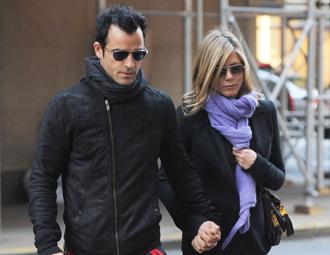 After a string of disastrous romances in the wake of her split from Brad Pitt, it seemed as if Jennifer Aniston had finally found "The One" in Justin Theroux. They settled into her penthouse in NYC's Greenwich Village; Jen seemed happy — and, friends thought, headed for the altar. The two were reportedly planning to elope before the new year.
Then came the holidays — and a trip to Telluride, Colo., where tensions bubbled over and nearly tore the couple apart. "It's been a nightmare few weeks for Jen and Justin," an inside source tells OK!.
Article continues below advertisement
Perhaps she was lucky; apparently Justin has proved to be quite a handful — mercurial and at times explosively temperamental.
"He's moody, he's controlling, he crowds her, and he's uncommunicative," the source tells OK!. "Jen was starting to feel like she'd been suckered again."
But now, Justin is begging for a reprieve.
"He's freaked out, terrified that he's going to lose her," the source reveals. "He's promised to change and basically give her anything and everything she wants."
Article continues below advertisement
At the top of his to-do list: a ring.
OK! NEWS: ANGELINA JOLIE'S PLOT TO STEAL JENNIFER ANISTON'S BABY JOY!
"Justin's been to Tiffany's, Cartier, and Harry Winston trying to find the perfect one," the insider says. "He's not planning to just get down on one knee and say, 'Will you marry me?' He's planning an epic showcase to make up for acting like such a jerk."
Still, Jen is wary.
"She doesn't want a conciliatory proposal — she wants it done the right way, not as an apology," the insider tells OK!. "Jen's taking Justin back but doesn't want to go through the same thing she did with Brad — stuck with an insensitive partner who's just going through the motions until they drift apart. Jen simply won't stand for being messed around with anymore."
FOR MORE ON JEN & JUSTIN'S ROMANCE, PICK UP THE NEW ISSUE OF OK! ON NEWSTANDS NOW!