NEWS
Justin Theroux Admits He "Could Not Be Happier" With Jennifer Aniston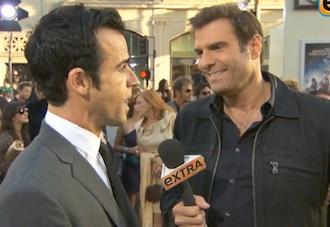 Article continues below advertisement
"I'm very happy," he said. "I could not be happier."
When Jerry asked if the two actors had plans to work together again, Justin said there wasn't anything immediate on the horizon but he's definitely open to the prospect.
"I hope we'll work together soon at some point," he answered enthusiastically. "I'd love to work with her, she's great." He then added at home he and Jennifer could run material past each other.
"Nothing happened on that movie. I mean, that was sort of — that's what is a rumor," Jennifer explained to ABC News' Lara Spencer. "I mean, it's again, it's the easy rumor. But nothing happened. We were just friends, great friends, on the movie."
The two began dating shortly after the movie wrapped in late 2010.