NEWS
Justin Timberlake Asked to Marine Ball By Cpl. Kelsey De Santis Post-Mila Kunis' Invite!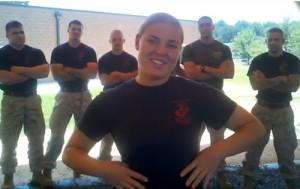 Justin Timberlake was the one who convinced Mila Kunis to accept Sgt. Scott Moore's video invitation to the Marine Corps Ball, and now Moore's fellow Marine is asking JT to be her date. Cpl. Kelsey De Santis asked Mila's Friends With Benefits co-star to accompany her to the gala on Nov. 12!
"You want to call out my girl Mila, well I'm gonna call you out and ask you to come to the Marine Corps Ball with me on November 12 in Washington D.C.," Cpl. De Satis says in her personal video message to JT, adding wittily, "And if you can't go, all I have to say is 'Cry Me a River.' "
Article continues below advertisement
Justin better be ready to go. Not only were there a bunch of intimidating Marines backing their pal Kelsey in the video, but JT was the one who pressured Mila to go to the event during an interview!
"I'm going to work on this, man," Justin said as a direct message/promise to Scott while he was promoting Friends With Benefits with Mila during an exclusive interview with FOX411. "This needs to go down."
MORE ON:
Justin Timberlake
And Mila decided to give in.
"I'll go, I'll do it for you," she told Justin. "Are you going to come?"
"They don't want me! They want you," Justin argued. "You need to do it for your country."
"I'll do it," she confirmed.
Watch Kelsey's clever invite, via YouTube, below!