NEWS
Justin Timberlake Calls Out 'Pretend' Hipster Ryan Gosling with Jimmy Fallon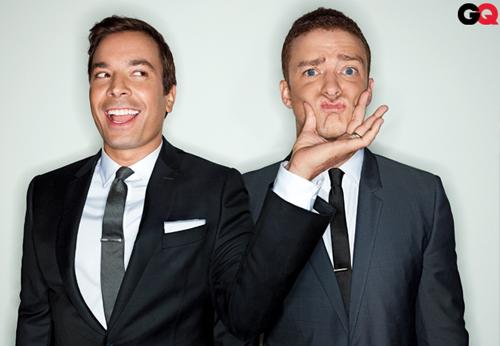 Over the years, Ryan Gosling has procured all the necessary aspects to become the epitome of the Hollywood hipster.
A multitude of indie movies: check. Indie band complete with emo name: check. Dog with an ironic mohawk: check. Quirky style including geek glasses and tuxedo tees: check. Taking an obscure musical instrument out on walks around NYC: check.
OK! NEWS: RACHEL BILSON TO RYAN GOSLING: "YOU'RE SUPPOSED TO BE MY HUSBAND"
Article continues below advertisement
Ouch! Apparently, J.T. doesn't quite buy Ryan's boho image.
Justin went on to explain that, contrary to what Ryan may have said, Justin's mom was the actor's guardian for a year during filming since Ryan's mom was stuck back in Canada, and that Ryan did, in fact, have his own bed.
The singer joked, "I'm picturing a 10-year-old Gosling bumming Marlboro Reds off some bum, growing hipster facial hair."
Jimmy joined in, quipping, "All I got is this one pair of Underoos, man! I got nothing, man!"
So what do you think? Is Ryan nothing but a poser? And do you really care — as long as he still has those "Hey girl" eyes?