NEWS
Justin Timberlake Forgets 'Nsync "Tearin' Up My Heart" Lyrics on "Today"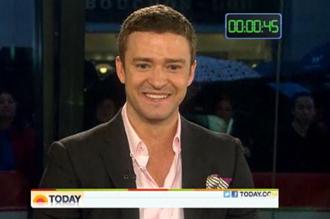 Justin Timberlake's new film, In Time, is all about a race against the clock. So when Justin stopped by the Today show this morning, they decided to have him play a Trivial Pursuit game that was all about himself.
It turns out, Justin's a little rusty on his knowledge about 'Nsync!
"One of 'Nsync's biggest albums was, No Strings Attached. How many weeks did it spend on Billboard charts?" Matt asked on Today.
Article continues below advertisement
"I have no idea," Justin said.
"Eighty-two," Matt said. "Continuing with 'Nsync, one of the big hits was the song 'Tearin' Up My Heart.' Finish this lyric, 'Baby I don't understand just why we can't be lovers.' "
"Um, I don't. I don't remember," Justin said visibly nervous.
But then Justin turned the tables on Matt and ended up the clear winner of the competition. Matt didn't even know his office number at 30 Rock!