NEWS
Justin Timberlake Needs More Time in 'Now'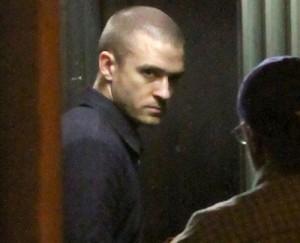 If looks really could kill, well, we'd all be in big trouble right now. Justin Timberlake shot the camera a positively dangerous glance while filming his new flick Now in L.A. yesterday. The action/thriller/sci-fi movie takes place in a future where no one ages past 25, but only the rich can be immortal, using time as currency to avoid being genetically switched off at 26.
OK! GALLERY: STARS OF THE SOCIAL NETWORK DO SCIENCE IN SPAIN
Article continues below advertisement
Justin's hot to trot right now in the movie biz these days, after a critically acclaimed turn as Napster founder Sean Parker in The Social Network.
OK! GALLERY: THE NETWORK STARS SOCIALIZE IN SPAIN
Amanda Seyfried and Olivia Wilde are JT's leading ladies in Now, as well as co-stars Johnny Galecki, Cillian Murphy and Alex Pettyfer.