NEWS
Justin Timberlake & Ryan Gosling Were "Close" on 'Mickey Mouse Club': "Had to Share a Bathroom"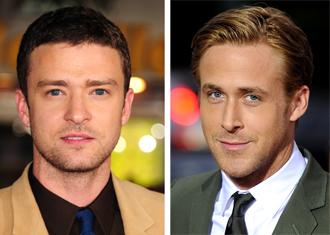 Ellen DeGeneres is gearing up for a very big Ellen DeGeneres Show on Thursday with guests Coldplay and Justin Timberlake, but it gets even better. Justin talks about his former days on The Mickey Mouse Club with fellow hot actor Ryan Gosling!
"We used to do terrible things. We thought we were so cool," Timberlake recalls on the show (via The Washington Post). "Looking back on them, they weren't as bad as I thought they were at the time. We stole a golf cart. And we were like, 'Yeah, man. We're stealing a golf cart!' "
Article continues below advertisement
And the boys even roomed together while working on the show!
"His mother had to keep her job in Canada the second year that we were on the television show and my mom was his guardian for six months. So we actually lived together when we were that age," Justin explains. "We were probably a little closer than the rest of the kids that were on the show just because we had to share a bathroom."
Unfortunately, Justin says it's hard for them to keep in touch now. But Justin admires Ryan's work.
"I think one of the best actors of our generation," Justin says. "For sure."
Watch a clip of Justin's interview with Ellen over at The Washington Post.