NEWS
Justin Timberlake Wasn't Afraid of Madonna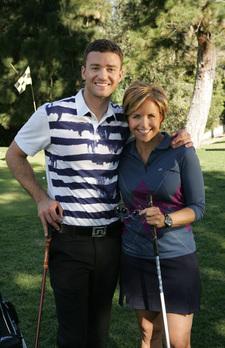 It's one thing to be a superstar musician with millions of fans, but to make people laugh every time you appear on a show with a full cast of comedians is no easy feat. Unless you're Justin Timberlake, that is.
Justin sat down with Katie Couric and weighed in on his most recent hit Saturday Night Live skit, in which he plays a dancer in Beyonce's "Single Ladies" video.
"Put a grown man in a leotard and that's just already funny," he tells Katie in the interview, airing Feb. 4 at 9 on CBS as part of the news anchor's All Access Grammy Special. "After that we couldn't go anywhere but up."
Article continues below advertisement
Justin has already won six Grammy's, and is nominated this year for "Best Pop Collaboration with Vocals" for his performance on Madonna's hit "4 Minutes featuring Justin Timberlake and Timbaland."
Of his burly co-collaborator, Justin says they share "a musical kinship."
"We have a crazy chemistry in the studio. We're like two painters. Somebody slaps a color on a canvas and the other one starts working with it," he says.
Even though he's a big star in his own right, working with Madonna must have been scary, right? JT says he was humbled to be working with the queen of pop, but that "she's short, so I wasn't afraid at all."