NEWS
Justin Timberlake's Single & Ready to... Make Babies?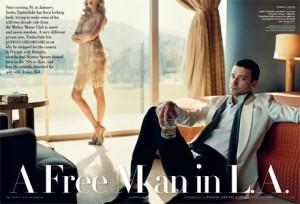 Justin Timberlake hasn't spoken to Britney Spears in 10 years. He recently broke up with the "most significant" person in his life, Jessica Biel. And he's only "Friends With Benefits" with Mila Kunis. Still, the musician-turned actor has babies on the brain!
OK! NEWS: JUSTIN TIMBERLAKE SNAGS INDY 500 WIN... SORT OF
"I wish her the best — that goes without saying, Justin tells Vanity Fair about his former girlfriend Britney. "We haven't spoken in nine or 10 years."
Article continues below advertisement
"We were two birds of the same feather — small-town kids, doing the same thing. But then you become adults, and the way you were as kids doesn't make any sense. I won't speak on her, but at least for me, I was a totally different person," he says. "I just don't think we were normal; there was nothing normal about our existence. We spent way too much time being the biggest thing for teenyboppers."
And Justin is even more guarded about his relationship with Jessica, his most recent ex-girlfriend.
"She is the single-handedly most significant person in my life," Justin says. "In my 30 years, she is the most special person, O.K.?… I don't want to say much more, because I have to protect things that are dear to me — for instance, her."
And now that he is single, he's thinking about how he wants a family someday!
Article continues below advertisement
Justin explains, "As little as six months ago I wouldn't have even thought about that, but now it feels like a closer planet orbiting around."
But he's not as sure about marriage.
"I think the mistake is that people commit to who that person is right then and not the person they're going to become. That's the art of staying together, is changing together," he says. "When you say it like that, it seems d*** near impossible, right?"
OK! VIDEO: JUSTIN TIMBERLAKE UNAIRED SATURDAY NIGHT LIVE SPOOF
But for now he's only pretending to be in a relationship of sorts with his Friends With Benefits co-star Mila.
The two decided to wait until the last minute to shoot their sex scenes!
"We figured that by then we'd really, hopefully, be friends, which is what happened," Mila explains. "It's always uncomfortable to do those scenes… You have to be in these crazy positions for 12 to 16 hours. I'll never forget when Justin had to be on top of me with his right hand on my left pasty and his left hand on my right pasty — my feet were getting numb, and I think his hands were giving out on him. It was a workout."
And Justin had to do show more nudity than Mila.
"The men never have to do anything, and we're always seeing the boobies of the ladies. So for this one, director Will Gluck said, 'O.K., Justin can show himself off,' which I thought was great."
"It was fun," Justin says, "but I can't say I'm going to be butt-naked in a movie again. I only did it because I'm young now, and everything's where it's supposed to be. I figured this is the time, before gravity gets the best of me."