NEWS
K-Fed Knows Best?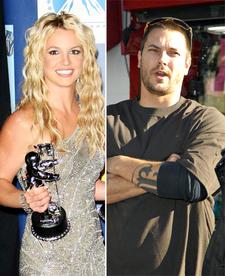 Following her March 31 Circus tour show in Dallas, Britney Spears was spotted steaming things up at bar Lotus with backup dancer—and rumored new love Chase Benz—looking as if she didn't have a care in the world.
And for ex-husband Kevin Federline, that's just the problem: According to an insider, Kevin, who has joined Britney on tour so their sons Preston, 3, and Jayden, 2, would never be far from their mom, has had enough of her wild ways.
Article continues below advertisement
"He didn't sign up to be the babysitter so she could party," the insider tells OK!. "The idea was to accommodate Britney's alleged desire to continue seeing the boys on her regular schedule."
But after Britney's March 20 hookup with Chase in a Montreal club bathroom and her night at Lotus, Kevin issued an ultimatum. "He wants out of this arrangement and he'll go back into court to get it changed if he has to," the source says. "They had a huge argument, with Kevin yelling at Britney that he's done and taking the boys home."
Kevin has sole custody of Preston and Jayden, while Britney has supervised visitation only: two overnights plus one additional daytime visit per week. Britney agreed to pay her former husband $5,000 a week to go on the tour with the boys, with a bus to accommodate them.
If Kevin signed an agreement regarding his tour duties, he may need legal assistance to break it and remain at his Tarzana, Calif., home with the kids until Britney wraps the U.S. leg of Circus on May 3. He's already laid the groundwork by returning to L.A. with the boys right after his ex-wife's night out in Dallas.
Britney had a few days off and headed to her new house in L.A.'s suburban Calabasas on April 4, then flew to her next stop, Alberta, Canada, two days later without her sons.
MORE PICS OF BRIT!