NEWS
K-Stew on Taylor: "I Think He's the Most Centered of Everybody"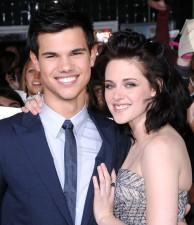 The crowd went crazy last night when Robert Pattinson, Kristen Stewart and Taylor Lautner arrived at the L.A. premiere of New Moon. The trifecta walked the red carpet separately while posing for pictures, talking to reporters and signing autographs for screaming fans. K-Stew reflected on her relationship with Taylor, telling reporters, "Everybody thinks we have a sister/little brother dynamic going on, and I definitely fought for him."
Article continues below advertisement
"I was totally on his side the entire time," adds Kristen, who was decked out in a Oscar de la Renta dress and Neil Lane jewels. "But he's taught me more than I've ever been able to bestow on him. I think he's the most centered of everybody here. And I think the only reason he was able to put on that weight is because he had the confidence to know what he was doing. But it wasn't about the weight; it was about knowing we had the right guy."
Kristen said she feels a closer connection to Bella, since she's always talking about her.
"You get time to reflect on your character as you talk, and I definitely feel closer to her as a result," she told reporters. "I really think Bella is awesome, and I get to play her. And I get to share that with everyone here. And I'll never get that experience again, no matter what kind of movies I want to make."
CHECK OUT ALL OF OK!'S NEW MOON NEWS & PICS!
Rock legend Joan Jett attended the premiere which excited Kristen, who is playing the female songstress in her upcoming film The Runaways. Kristen was able to sing in the film, and her role took on a completely different form from Bella Swan.
CHECK OUT PICS FROM LAST NIGHT'S PREMIRE!