NEWS
Kaley Cuoco Can Keep a Secret; Drops 'Big Bang' Dating Bombshell!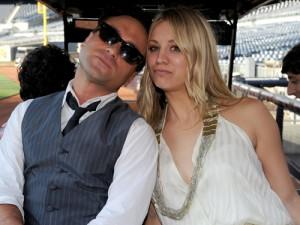 Kaley Cuoco is a relationship-type girl, but doesn't need the Hollywood spotlight intruding on her love life. The Big Bang Theory leading lady finally admitted she dated her co-star Johnny Galecki, a secret the couple kept under wraps for two years!
When asked by CBS Watch! magazine about her dating life, Kaley (this month's cover girl) responds, "Well, I dated co-star Johnny Galecki, so … yeah. We dated for almost two years. It was such a huge part of my life and no one knew about it."
Article continues below advertisement
The star dishes on dating Johnny in the mag, in which she posed for a sexy photo shoot.
"It was such a huge part of my life and no one knew about it," Kaley says of Johnny, who also played her boyfriend onscreen for the hit CBS comedy. "It was a wonderful relationship but we never spoke a word about it and never went anywhere together."
OK! NEWS: THE 2010 PRIMETIME EMMYS — MODERN FAMILY & GLEE WIN BIG
Kaley and Johnny broke up before the holidays last year, however, their characters, Leonard and Penny, kept dating on the show up to six months after their real-life split.
Did that make things awkward for the exes on set?
"When you're dealing with two professionals who have been working since they were both 4 — and who kept their lives extremely private — we didn't want anything other than that."
OK! NEWS: CHRISTINE BARANSKI JOINS THE BIG BANG THEORY
Their concern for staying super private, however, may have strained their relationship.
"We were so protective of ourselves and the show and didn't want anything to ruin that. But that also made it sad, too," Kaley admits. "That's not the kind of relationship I want — I don't want to be hiding."