NEWS
Kanye Apologizes for Spoiling Taylor Swift's Speech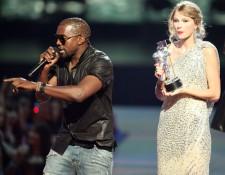 Could it be that Kanye West is finally growing a conscience when it comes to throwing a hissy fit and stealing someone else's spotlight? The perennial whiner, who took to the VMA stage on Sunday night to interrupt Taylor Swift's acceptance speech for Best Female Video, has actually issued a (perhaps genuine) apology for his misbehavior.
Kanye, well known for previous pouting fits when he's been on the losing end at the VMAs, stopped Taylor mid-speech to let the world know who he thought should have won the award.
Article continues below advertisement
"I'm really happy for you, and I'm gonna let you finish," he told a stunned Taylor. "But Beyonce had one of the best videos of all time."
Throughout the evening, the mere mention of Kanye's name drew boos and chants of "Taylor! Taylor!" from the audience.
It looked like the 19-year-old was never actually going to get to finish her speech, until Beyoncé gave her a chance when she accepted her Video of the Year award at the end of the evening.
A few hours after the awards had ended, Kanye blogged the following apparent apology:
''I'M SOOOOO SORRY TO TAYLOR SWIFT AND HER FANS AND HER MOM. I SPOKE TO HER MOTHER RIGHT AFTER AND SHE SAID THE SAME THING MY MOTHER WOULD'VE SAID. SHE IS VERY TALENTED!''
So do you think he's finally learned his lesson?