NEWS
Kanye: Rihanna is Like My Baby Sis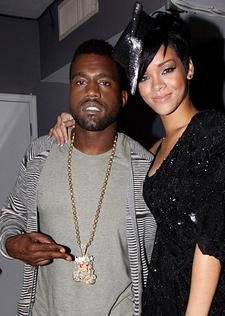 As the music community reels from the news that Chris Brown and Rihanna were involved in an alleged domestic violence episode that left Rihanna injured, now Kanye West is adding his thoughts on the situation.
"I saw them at Clive's the night before," Kanye told Ryan Seacrest this morning on his KISS FM radio show. "I know Rihanna a bit better because I went on tour with her and we really vibed out on a lot of creative ideas... I really feel that Rihanna is so important to our culture and pop music. I feel like she is the most important artist in music and has the most potential. "
Article continues below advertisement
Kanye seems like he has nothing but good things to say about the 20-year-old singer, who, along with Chris, canceled her performance at the Grammy's on Sunday night.
"She has the potential to be the biggest artist of all time," he raves. "In that sense, I feel like that's my baby sis and I would do anything and everything to help her in any situation. I don't want to speak too much on it but I was completely devastated by the concept of what I heard to the point that I was completely devastated during my 'American Boy' performance with Estelle during the Grammys."
"It's so devastating," he adds. "As a person, I don't care how famous she is or if she just worked at McDonald's, that should never happen. It should never come to that place."