NEWS
Kanye vs. 50: Who's winning?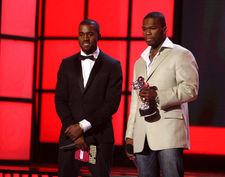 Yesterday, both (his latest is Curtis) and (his is Graduation) released their latest albums. The much-hyped release date left many music fans wondering which rap superstar would come out on top.
Well, according to reports, it seems like the winner is Kanye. It's reported that he will easily outsell 50 Cent by at least 200,000 records, putting him at the top of the charts. 50 Cent vowed that if he didn't come out on top, then "I'll no longer (perform) music. I'll write music and work with my other artists, but I won't put out any more solo albums."
Article continues below advertisement
Wonder if he'll keep that promise?