NEWS
Kanye West the Author?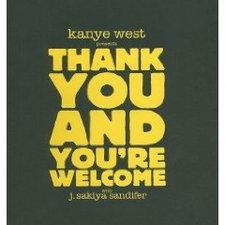 The whole world has already been made very aware of Kanye West's talent when it comes to writing hit songs, and now the music impresario and style guru has his eye on a different type of writing – he's written a book.
Thank You and You're Welcome was co-written with author J. Sakiya Sandifer, and features a collection of Kanye's personal philosophies, the ones he's fallen back on to get where he is with his career.
Article continues below advertisement
For those who have their sights set on winning a Grammy, becoming a fashion designer and more, pick up Kanye's tome of insights and life lessons, out now.