NEWS
Kanye West Is Being Sued for Assault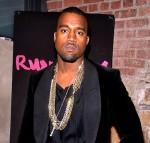 Oh, Kanye, Kanye, Kanye. A photographer claims that Kanye West and his security team "assaulted, battered, beat and threatened him" at a May 2008 event and wants unspecified damages for "physical, mental and emotional injuries."
OK! NEWS: KANYE WEST TO MAKE APPEARANCE IN KIM KARADASHIAN'S MUSIC VIDEO?
Here's the scoop: At a Casio G-Shock watch event which paid Kanye big bucks (and by that, we mean to the tune of $1 million!), photographer Michael Vazquez experienced "assault and battery," as reported by The New York Post. A source indicated that Michael actually filed a police report at the time to indicate he suffered a dislocated shoulder. Also, Michael's camera and cell phone were confiscated during the scuffle.
Article continues below advertisement
OK! NEWS: KANYE WEST NAMED MTV NEWS MAN OF THE YEAR!
At the time, cops threw out the case and determined the complaint was "unfounded." Well, fast forward almost three years and now the photographer's seeking an unspecified amount of money for his suffering. Should be interesting to see how this plays out!