NEWS
Kanye West Catches Bieber Fever via Twitter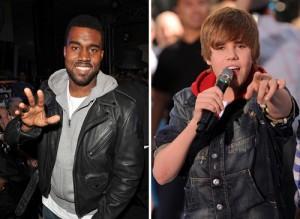 Kanye West has given up on following a random teen on Twitter and has instead decided to follow the most well-known teen on Twitter — Justin Bieber.
OK! GALLERY: JUSTIN BIEBER PROVIDES RELIEF TO FLOOD VICTIMS
Kanye has officially caught the Bieber Fever via Twitter when he decided to follow the star on Sunday morning.
"Listening to @Justin Bieber "Run Away love" … I love Sunday mornings in the crib," Kanye Tweeted adding, "I just did the most cliche celebrity tweet of all time… listening to! When people tweet that I'm always like… uuum great .. so what!"
Article continues below advertisement
OK! GALLERY: KANYE & BLAKE ROCK & ROLL OUT TO SEE RIHANNA
It may have been a cliché to Kanye, but it certainly wasn't to Justin!
"@kanyewest it's not a so what moment for me. I'm 16 and a fan," Justin Tweeted back. "I'm kinda hyped u are listening to my stuff. Thank u. Nice sunday morning."
"@kanyewest what is crazy is that I play Heartless every night in my set acoustic," he added. "this convo is crazy for me. Excited 4 ur new album."
OK! NEWS: TEEN KANYE PICKED TO FOLLOW ON TWITTER ISN'T A FAN
And the bromance really blossomed when Kanye then offered Justin to collaborate with him!
"And I'm honored that you like my Music @JustinBieber!!!" Kanye Tweeted back to Justin. "You gotta hear the album. Maybe we can do something together. Me, You and Raekwon"
"So bugged out me and @JustinBieber are tweeting at the same time…" he added. "Social networking is pretty awesome."