NEWS
Kanye West Disses Taylor Swift Again; Lashes Out at Haters!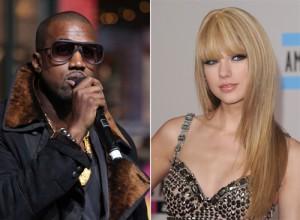 Kanye West made sure to speak his mind last night at the Bowery Ballroom in NYC in front of Diddy, Q-Tip, comic Aziz Ansari and a crew of music bloggers and writers during a surprise performance from his highly-anticipated new album My Beautiful Dark Twisted Fantasy. The subject of his rant — Taylor Swift, who he infamously attacked at the 2009 VMAs.
Article continues below advertisement
Kanye said he felt "exploited" during the interview with Matt about former President George W. Bush, who in a recent interview said that Kanye calling him a "racist" for his handling of Katrina was one of the "lowest moments" in his presidency.
"Because of the popularity of me, they exploited that...That's not what he f*cking said!" Kanye ranted of being a victim of media manipulation. "That's not what he said! He said it was one of his lowest moments. But it shows you — the way they try to villainize, the way they tried to do that."
Listen to Kanye's rant in the clip below. Do you think his points are valid?
His performance of "Monster" with Nicki Minaj.