NEWS
Kanye West the Energy Guru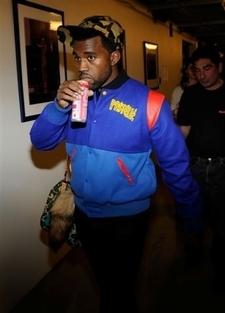 Kanye West already has a hold on the entertainment world with his ground-breaking music and distinct personal style, and now the rapper wants to extend his brand to the energy drink arena.
The 808s & Heartbreak hip-hop artist announced today that he'll be collaborating on a new product for Guru energy drinks, which are 100 percent organic and all-natural. He'll be designing the can and developing his very own flavor.
Article continues below advertisement
"I express myself through music, fashion, art and design and that's why I am excited to collaborate with GURU; because the brand values what I value, and I can put what inspires me into this new product," Kanye says in a statement from the company regarding their "Clean Energy for Dirty Minds" campaign.
Kanye in a can? Sounds tasty.