NEWS
Kanye West: I'm the Voice of This Generation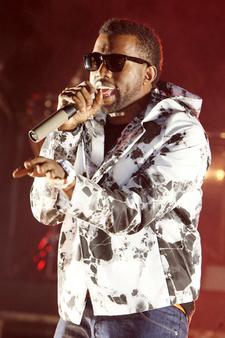 Ego alert: Kanye West is back to doing what he does best, which is talk about his own importance.
''I realize that my place and position in history is that I will go down as the voice of this generation, of this decade, I will be the loudest voice,'' the Associated Press quotes him as saying on Wednesday in London. ''It's me settling into that position of just really accepting that it's one thing to say you want to do it and it's another thing to really end up being like Michael Jordan.''
Article continues below advertisement
Yes, Kanye believe he is the Air Jordan of music, a role he says could've been nabbed by someone like Justin Timberlake, if he'd been more productive with his recording.
''There were people who had the potential to do it but they went on vacation, so when Justin went on vacation I made albums,'' he says. ''And it just came out to be that.''
The voice of this generation released an album last year and is set to debut 808s and Heartbreak on Nov. 24, while JT's last album was in 2006.
MORE ON:
Justin Timberlake
Kanye admits life has been hard for him lately, especially with the death of his mother and support system, Donda West last year.
''We were together for like 30 years. And you know now when I'm on that stage and I look out and I say, 'What am I going to do with the rest of my life?' Like when does a real life start?' Because I have sacrificed real life to be a celebrity and to give this art to people, which is great," he admits. "It is great that I was able to do that, I'm not trying to shun that in any way, but it's definitely a Catch-22 and it's bittersweet.''