NEWS
Kanye West Trumps Donald Trump & Simon Cowell in 'Parade' Poll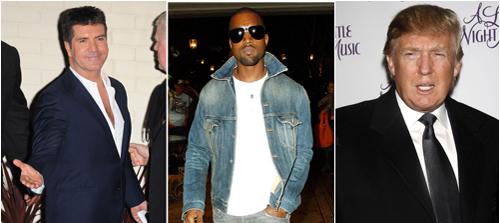 It has definitely been a year full of scandals, splits, sudden celebrity deaths and scintillating news stories. Parade.com polled the American public on what they felt were the top headlines of 2009. In the battle for the most egotistical male celeb, Kanye West — with 46 percent of the votes — beat out Donald Trump (27 percent) and Simon Cowell (13 percent) in Parade.com's poll.
Here are some other interesting findings in the Parade Poll:
Article continues below advertisement
• Bernie Madoff's Ponzi scheme took the top prize over the Tiger Woods' cheating scandal (40 percent to 31 percent) in the category of the most interesting story Americans wanted follow. Following suit, Jon and Kate Gosselin's divorce drama (12 percent), the Chris Brown assault of Rihanna (11 percent), and Nadya Suleman's "Octomom"antics (7 percent).
• As far as sexiest athlete, Parade's poll voted David Beckham as the sexiest athlete with 44 percent of the vote. Derek Jeter came in second (28 percent), beating out fellow Yankee Alex Rodriguez (11 percent) and the New Orleans Saints' Reggie Bush (7 percent). Despite his alleged affairs with more than a dozen women, 6 percent of voters found Tiger Woods to make the cut for the sexy athlete list.
• George Clooney beat out his buddy Brad Pitt by a wide margin (56 percent to 16 percent) in the category of what celebrity would you choose to kiss under the mistletoe. Jennifer Aniston defeated her ex-husband's current lover, Angelina Jolie (50 percent to 24 percent). Other celebs voters wanted to kiss include Bradley Cooper (10 percent) and Robert Pattinson (8 percent); Beyoncé (13 percent) and Rihanna (7 percent). How did R-Pattz only get 8 percent of the vote?
• Voters chose the Obamas (37 percent) as the family they'd most like to entertain at the holidays, followed by the Palins (21 percent), the Jolie-Pitts (18 percent), and the Osbournes (16 percent).
• Patrick Swayze's death saddened Americans most (45 percent), followed by Michael Jackson (25 percent), Farrah Fawcett (13 percent), and Ted Kennedy (9 percent).
For a complete list of winners, visit Parade.com.