NEWS
Kanye's a Fan of Someone Other Than Himself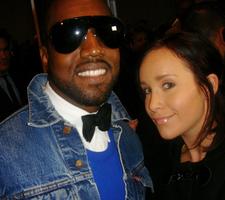 Rapper Kanye West, whose ego often overshadows his music, admits to <em>OK</em>! that there's at least one person out there whose work he admires — designer Narciso Rodriguez.
"I thought it was really, really dope!" the fashionable music maven gushed to OK! after watching Narciso's NYC Fashion Week show in Bryant Park.
Kanye recently learned a lot about the clothing biz from developing his new sneaker line with Marc Jacobs for Luis Vuitton.
Article continues below advertisement
"Its going to be really good," Kanye told <em>OK</em>! about the line. "We worked on it really hard for like six months. Its coming out in June. That was a great experience working with Marc."
Clad in his signature dark shades, a jean jacked and bowtie, Kanye, 31, told OK! there was only one way to describe his personal style: "Amazing!"
By Laura Lane