NEWS
Kara DioGuardi on Howard Stern as 'Idol' Judge: "That's a Rumor"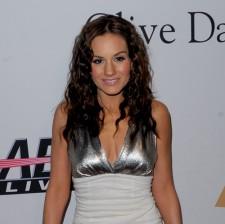 American Idol judge Kara DioGuardi is dismissing the idea of shock jock Howard Stern replacing Simon Cowell on the hit Fox reality show — for now. Rumors have been circulating that Howard might be a replacement for Simon when he leaves Idol after this season to start a U.S. version of his hit Brit show The X Factor, also on Fox. So — will radio's Mr. Nasty replace TV's Mr. Nasty? Kara told reporters this morning about Howard, "Right now, that's a rumor."
Article continues below advertisement
"I don't think he has musical background or any kind of music anything and I think if you're going to replace Simon, you have to have that background." Kara continued. "You have to be somebody who knows about signing great artists and being a part of their career from the very beginning to the very end which he's done with people like Leona Lewis, who he spotted early on and nurtured and turned them into big stars."
"I think that's probably a precursor for whoever takes that position, if they're not a big artist who's been through it themselves."
OK! NEWS: HOWARD STERN CONFIRMS AMERICAN IDOL RUMORS
Kara did, however, praise new Idol judge Ellen DeGeneres, although she, too, has no musical background.
Ellen's first appearance at the judging table aired last night and Kara said, "I think that Ellen brings a sense of humor of course but also, I think she knows more about music than you think she does."
Article continues below advertisement
OK! NEWS: CONAN O'BRIEN THE NEXT RUMORED SIMON COWELL REPLACEMENT
"I think she was critical at times and she gave good feedback that was constructive," Kara continued. "When I was sitting next to her, I felt like she had a good handle on whether a contestant had potential, whether they had star quality. She knew if something was off. She delivered the message with kindness but also had criticism in there."
OK! NEWS: ELLEN DEGENERES: MAYBE I'LL BE THE MEAN AMERICAN IDOL JUDGE?
Kara dismissed the rumors that Simon and Ellen are feuding. She said there's no validity to the gossip and added, "I think you have to take any rumor you hear about American Idol with a grain of salt. They're usually not true. These things are just ridiculous."
"We're all there to do one thing and that's to find the greatest contestant, the greatest American Idol winner we can find and I know Ellen and Simon both take that seriously."
Article continues below advertisement
Of course, the show has drastically changed with Ellen replacing popular judge Paula Abdul, who quit the show after last season.
OK!'S AMERICAN IDOL LIVE BLOG: HOLLYWOOD WEEK NIGHT 1
"I really don't want to speak about Paula's absence because you can't really compare Paula and Ellen — they're completely different and they both bring something valuable to the table," Kara said.
However, Kara said some of Paula's attitude has rubbed off on her: "Paula was very nurturing. I was a bit more supportive in the beginning rounds towards the contestants than maybe I would have been the previous year."