NEWS
Kara DioGuardi: I Quit!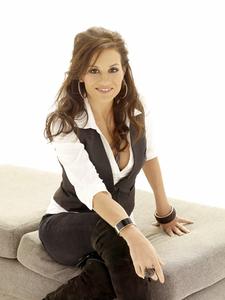 On last night's American Idol live broadcast, Simon Cowell and Randy Jackson did very little to hide their disdain of new judge Kara DioGuardi.
When Kara interrupted Randy's critique of Kris Allen's performance, the irritated dawg shot a look down the table to Simon, who not-so-subtly proceeded to flip his middle finger (while pretending to scratch his ear) at Kara while she spoke.
This incident is only the latest tense incident between Kara and the three original judges. In the pages of the new OK!, insiders detail a backstage blowup that occurred after last week's performance show, which saw DioGuardi storming off the set after the credits rolled.
Article continues below advertisement
"She was so upset, she couldn't hold it back," an Idol source tells OK!. "Kara was telling everybody, 'I don't care anymore. I'm going to quit!' She didn't sign up to be anybody's punching bag. That's what she feels she's become."
One insider explains that Kara, an experienced producer and composer, feels like she's made a mistake by joining Idol.
"She has achieved too much in the music world — a business dominated by men — to allow herself to stay in a job where she's not appreciated," one Idol insider reveals. "It's demeaning and a waste of her time."
For the complete story, pick up the new issue of OK! — on sale everywhere Thursday!
PICS FROM THIS WEEK'S AMERICAN IDOL: