NEWS
Kara DioGuardi Outs Adam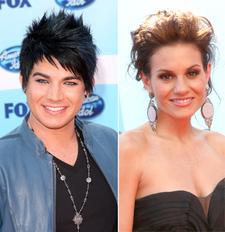 Adam Lambert has always been about entertaining and singing, and less about answering personal questions about his sexuality. In fact, he's been quoted as tellinig people to "keep speculating" when it came to his orientation.
But American Idol judge Kara DioGuardi says it's no secret that he's gay.
In an interview for ABC's The View, Barbara Walters asked if Adam's sexuality might have influenced voters, to which Kara replied, "Well, first of all, I hope not... because we should be judging on talent and viability in the music industry and they both Adam and winner Kris Allen had that."
Article continues below advertisement
PICS OF ADAM'S VISIT TO OK!:
And when it comes to whether he's gay or not, Kara thinks it's no secret to be speculated on.
"I don't think that Adam was ever in the closet," Kara adds. "I think he was always openly out."
When Barbara asks if he really was open about it, Kara confirms that she never thought otherwise, replying, "I think he was. I mean from what I've seen... I do. I never thought he wasn't."
Any way you cut it, Adam's proved to the world that he's got talent, plain and simple.
VIDEO OF ADAM AT OK!: