NEWS
Kara DioGuardi Says Being a Judge on 'American Idol' Was "Torture"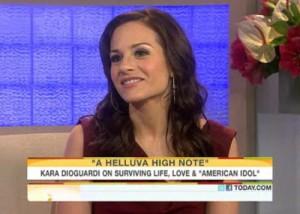 After two seasons on American Idol, Kara DioGuardi stepped down as a judge. Now, in her new memoir, Kara is speaking out on her time on the show and saying it was "torture."
OK! NEWS: FORMER AMERICAN IDOL JUDGE KARA DIOGUARDI REVEALS PAINFUL PAST
Kara explained to Matt Lauer on Today that she felt that American Idol didn't properly introduce her as a judge on the show, which caused her to not be as popular with fans.
Article continues below advertisement
"It took the viewers awhile to understand why I was there," Kara explained. "It was like I broke up the Beatles."
In Kara's new memoir, A Helluva High Note, she describes American Idol as being "mentally, physically, and emotionally challenging... it was torture."
"To be thrust into the homes of millions of people and live television and all of these things I didn't know how to do was so challenging," Kara explained on Today.
"Do you really feel that you were brought on to keep Paula Abdul in line?" Matt asked.
"I don't know that that was true," Kara said. "I think they wanted to mix it up. They wanted the chemistry to be fresh. It was really difficult to come into something so established."
"I have to say I have nothing but love for American Idol," Kara added. "I came through it. I'm stronger for it. I got to face some really big fears."