NEWS
Kardashian Rule: Manis and Pedis Must Match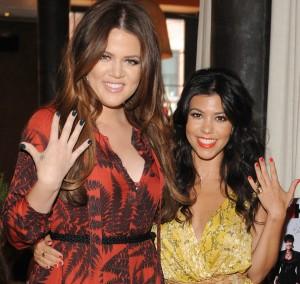 When Khloe Kardashian Odom and sister Kourtney launch their Nicole By OPI's Kardashian Kolors line at NYC's Fig & Olive this week, they poke fun at Kim.
"Kim loves to wear all-white nails," Kourtney says. "She loves that. Mani and pedi. We're all about matching. We always do ... whatever's on our hands, is on our toes."
Khloe admits that their little sisters mix it up with stars and stripes, but Kourtney bristles, ""Mine, like, have to match. My nails and my toes, or it, like, gives me the chills."
Article continues below advertisement
She adds, "Kim's very … she doesn't like things that are too sheer. With the white, she was very critical that there was no streaking. She likes bold. She really loves the white."
Hm, what inspired the Kardashian Kolors line?
"We always wanted to do a brand for our fans, " Khloe says. "We always look at comments and what people say. We've been asked for years, you know, 'you guys should have your own nail polish line.' We're not going to have our own nail polish line – creating that, it's a little extreme, but when we got offered this, to do OPI, my mom brought it to us, and we were like 'that's perfect.' They would let us have control of picking colors and naming and all that. We're doing it as a family, and it's fun. We want to do something that fits us, and it's not just slapping our name on something. We wanted to give something to our fans, but it has to be the right fit. We were excited to do that."
I must say, the shades are cute, and the names are out-of-this-world including All Kendall-ed Up, Sealed with a Kris, Kim-pletely In Love, Khloé Had a Little Lam-Lam, Kourt is Red-y for a Pedi and many more.
Here's my pic with Kourtney and Khloe: