NEWS
Kardashian Sisters Celebrate Mason Dash Disick's 1st Birthday!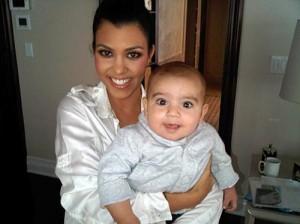 Kourtney Kardashian is one proud momma today! The eldest Kardashian sister is celebrating her son Mason Dash Disick's 1st birthday, Dec. 14, with some help from his famous aunts — Kim Kardashian and Khloé Kardashian Odom posted photo galleries and messages to their little nephew!
Kourtney shared a special birthday message to her little one on her blog: "Happy very first birthday to my little angel Mason! You complete and fulfill my life. This year with you has been more than I could have ever imagined."
Article continues below advertisement
OK! GALLERY: KOURTNEY DASHES OUT WITH MUSICAL MASON
Kim and Khloé followed Kourt's footsteps, posting photos and special messages dedicated to their adorable nephew on their blogs!
Kim shared:
"My little Mason is one year old today!!!! Words can't express how much little Mase has changed my life. He is such a blessing to our family and watching him grow into a gorgeous little man is so amazing. Looking back at all these pics, it's crazy to see how fast he has grown… it seems like just yesterday we were all at the hospital with Kourtney for his birth, and now he's walking around all on his own and I can barely lift him, lol! Happy birthday Mason, my favorite little man! I hope you're ready for another year of smooches."
MORE ON:
Kourtney Kardashian
And Aunt Khloé also shared an abundance of emotion for her Masey!
"Happy happy happy HAPPY birthday to my beautiful baby nephew, MASON!!!!!!!! OMG I can't believe it's been a year since this perfect little person came into our lives. From the moment Mason was born, we were all madly in love with him. It didn't matter that he couldn't talk, walk, or do pretty much anything LOL, his existence in itself enriched all of our lives in a way we never knew possible. Every day he's learning new things and it's such a blessing being able to witness that and share in those experiences with him. I obviously can't be there for every first but the ones that I am fortunate enough to be there for are some of the most precious moments of my life. Mason is the best baby in the world and I wish I could be there to smother him with kisses on his first birthday. I think I gave him enough to last him a lifetime though at his birthday party LOL. Happy birthday Masey!!! I love you more than anything!"