NEWS
Karina & Maks: DWTS All About Popularity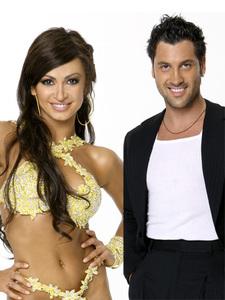 Back when Steve-O was stapling various body parts together and intentionally getting punched in the face on Jackass, the idea of the crazy stunt guy twirling about on the dance floor would've seemed nuts.
It still might seem nuts, but newly-engaged couple Karina Smirnoff and Maksim Chmerkovskiy, two of Dancing With the Stars' pros, say Steve-O will be a fun one to keep your eye on this season.
"Steve-O is definitely someone to watch," Karina told OK! at Club mur.mur at the Borgata Hotel Casino and Spa in Atlantic City on Feb. 7. "I think you'll be excited, he's a character."
Article continues below advertisement
"I heard that he was a trained circus clown so he'll physically be able to do a lot of things," adds Maks.
So could that training, or other skills akin to dancing, be an unfair advantage over other contestants like singer Jewel or Apple co-founder Steve Wozniak, who might have little to no dancing background?
"The show has definitely showcased that it's not a dance competition in itself, it's also a personality contest, and popularity," Karina explains to OK!. "Having a big fan base plays a big part."
"I'm pretty sure Cloris Leachman last year didn't have experience but, she lasted like, what seven weeks?" chimes in Maks.
"I think personality plays a huge part. I mean, they have to be willing to spend hours in the studio, and their attitude, and approach to it. If they have fun, the audience will have fun with them," adds Karina.
As for the show itself, the couple revealed that there are going to be some fun changes around the set... or so they think!
MORE ON:
Maksim Chmerkovskiy
Article continues below advertisement
"The rumor is that we are going to have an extra celebrity couple, instead of having 12 couples, we'll have 13," says Karina.
Once again, Maks has more to add to his real-life partner's explanation, proving they work well together on and off the set.
"There is going to be something called 'the dance off.' The bottom two couples are going to be dancing off for the judges, to see who the judges want to win, some crazy stuff like that. We have no idea," he admits. "We've been busy on the tour for the past two and a half months."
Soon enough the pros will be finishing up their tour and flying out to meet the "star" half of their dance equations.
"I'm looking forward to finding out who my celebrity is!" gushes Karina.
We can't wait either!
Reporting by Emily Bache