NEWS
Karina Smirnoff: "I Hope I Get to Kiss Someone on New Year's"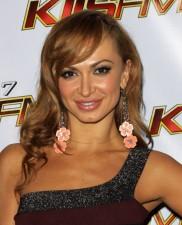 Karina Smirnoff was glowing Saturday night at KISS FM's Jingle Ball Concert in NYC. The Dancing With the Stars pro wore a tight-fitting, multi-colored Missoni dress accentuating her toned dancer's body. "I'm just excited to be here," Karina dished to OK!. "I can't wait to watch Taylor Swift." So was Karina wearing that dress for anyone in particular to enjoy?
"No, still happily single and enjoying the single life but I hope I get to kiss someone on the New Years because that would be really sad if the three-two-one came and I didn't get to kiss anyone," she told OK!. "But I still have my puppy, though! I'm sure he's going to give me kisses! It's not ideal, but I'll take what I can get!"
Article continues below advertisement
DWTS fans should watch out for Karina's DVD, set to be released before the end of the season, following her book.
As for the next season of the hit ABC dance show, Karina said she can't wait.
"I love Dancing with the Stars," she said. "I think it's one of the few shows that you can watch with your mom, your grandparents, your kids. It's a very family oriented show, and I think we've been having great success over the last nine seasons, and season 10 should be the biggest!"
Excited though she may be for the next season, Karina isn't even sure what season they're on, asking, "Is it season 10 coming out?"
Right you are, Karina!