NEWS
Karina Smirnoff Would Like Rob Kardashian as Her 'DWTS' Partner: "It Would Be Awesome!"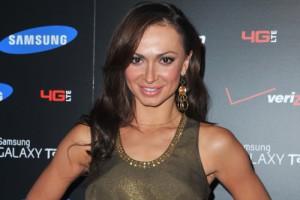 Karina Smirnoff is gearing up for the next season of Dancing with the Stars! The dancer isn't sure yet about who her partner will be, but she told OK! who she wouldn't mind dancing with.
OK! EXCLUSIVE PHOTOS: DANCING WITH THE STARS — THE FINALE!
Karina spilled this info while hosting at Borgata Hotel Casino & Spa's Mixx. She told OK!, "I don't know who my partner is or who is on the cast this season. You only hear rumors."
Article continues below advertisement
"Obviously everyone's heard about Rob Kardashian, who I think is gonna be awesome on the show, but other than that I haven't heard about anyone else."
OK! NEWS: WILL SNOOKI & QUEEN LATIFAH JOIN DANCING WITH THE STARS?
Other rumored dancers have been Queen Latifah and Jersey Shore's Snooki.
"I do get excited about Queen Latifah, I'm a huge fan of hers," Karina said. "I think Snooki would be very, very entertaining. Just because she is entertaining."
Who wouldn't she mind dancing with? Rob Kardashian!
"I think it would be awesome," she told OK!. "He's fun, he's full of energy, we can definitely maneuver him into some very cool moves."
"I think it would be fun," Karina added. "I don't know how much of that is true. It is exciting because it's new season, new blood, new direction, new energy. It will be fun to see what happens."