NEWS
Karmin Talks About Their 'SNL' Performance & Meeting Host Zooey Deschanel!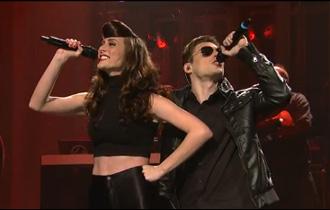 Article continues below advertisement
"It was one of the most amazing nights of our career, so far," Amy told OK! at the Betsey Johnson Fall 2012 fashion show in NYC last night. "It was amazing," added Nick.
And they were amazing! The duo, who are engaged, rocked the stage as they sang their new singles, "Brokenhearted" and "I Told You So," which will both be on the album set for an April release.
As for what they thought of host Zooey Deschanel, Amy says, "We decided we're long-lost sisters!"
"It was a great episode too!" Nick said. "I thought Zooey killed it. The skits were really funny. It was a great show."
OK! NEWS: CHANNING TATUM LIFTS FRED ARMISEN DIRTY DANCING STYLE IN SNL PROMO
But let's be honest, their appearance made the night that much better, and the SNL cast couldn't agree more.
"The cast could not have been nicer," Nick told Billboard.com. "Kristin Wiig is actually the nicest person in the world. And everybody, Jason Sudeikis, Seth Meyers, all those guys could not have been more supportive."
Check out a clip of their performance below and listen to their song "Brokenhearted." Let us know what you think!