NEWS
Kat DeLuna: Ready to 'Run the Show'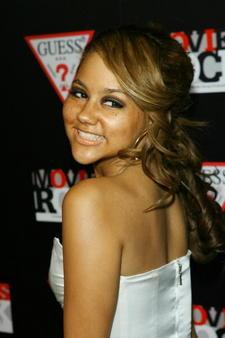 Caribbean singer Kat DeLuna has been on the music scene for less than a year and she's already landed her first magazine cover.
The 20-year old appears on the April cover of Latina magazine, where she opens up about leaving the Dominican Republic, how she's handling her overnight success and what it's like being compared to another Caribbean singer, Rihanna. "It doesn't bother me at all," the "Whine Up" singer says. "I think it's because we're both Caribbean girls trying to make it."
Article continues below advertisement
All comparisons aside, DeLuna says she's determined to be herself and to show everyone that she, and her music, are here to stay.
"I try to show everyone I'm a real girl," she tells Latina. "I want them to see that you can make it places but always be yourself. I feel like I'm opening doors for the generation sort of stuck between what's Spanish and what's English."
After the huge success Kat had with her debut Gold single "Whine Up," featuring Elephant Man, she's now set to hit it big again with her latest single, "Run the Show" featuring Busta Rhymes and Don Omar.
But despite her quick rise to fame, life has not always been easy for the artist. Born in The Bronx but raised in the Dominican Republic, Kat relocated back to the U.S. when she was 9, sharing a tiny one bedroom apartment with her mother and two sisters in a Newark, N.J., neighborhood.
The singer describes her childhood as rough, recalling a time following her parent's split when she had to beg the neighbors for food. But if you think her past connects her with other Hollywood starlets, think again.
"I don't ever wanna go back to feeling that hunger, or feeling limited, like I'll never make it anywhere because I didn't even have one dollar to catch the bus," she says. "This is what pushes me to go. I'd say, 'I'm gonna sing to make money so one day I can buy my mom a house.' It's a dream, but in the end, it becomes my savior."
Kat continues, "A lot of these things you see happening in the media aren't new to me. Where I grew up, I saw addictions and partying and everything at an early age. I learned why they happen and how to avoid them."