NEWS
Kat Von D 'Good Day L.A.' Stunt Was "Unprofessional," Producer Says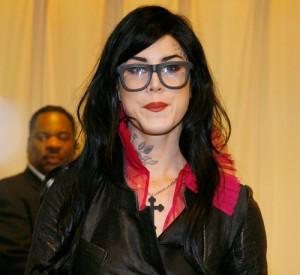 Kat Von D is certainly keeping herself in the headlines. After announcing her split from fiancé Jesse James on Monday, Kat tried to return to business by promoting the new season of her TLC reality show LA Ink this morning on Fox 11's Good Day L.A. but ended up storming off the set in a fit of fury when a clip of Jesse aired. The show's producers were not happy.
"I think it was unprofessional on her part. I don't know what she expected," a Good Day L.A. producer told Radar Online.
Article continues below advertisement
Kat had been slated for her TV interview with the program for two weeks.
"Two days ago we got a message from her publicist that they did not want us to ask about Sandra Bullock or Michelle "Bombshell" McGee," the producer explained. "We agreed to that. If someone asks ahead of time, we decide ahead of time if we can do the interview and we agreed."
Earlier today, Kat was so angry that the program showed an introductory clip of her and Jesse from LA Ink that she made a swift departure from the set, skipping out on her scheduled segment.
A clip from the premiere of the hit TLC reality show, which airs tomorrow night, shows Kat surprising Jesse in her shop with a new tattoo she got on her left side of his childhood photo.