NEWS
Kat Von D Isn't Concerned With Jesse James Cheating History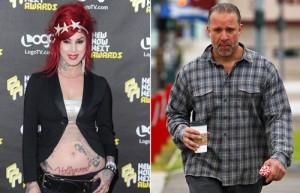 Kat Von D seems unfazed when it comes to rumored boyfriend Jesse James' track record with infidelity. Sandra Bullock fans may still be having trouble forgiving Jesse for ruining his marriage with the Oscar-winning actress, but Kat has already moved beyond the West Coast Chopper's unfaithful past, welcoming her new relationship with excitement.
"I am a believer that we're all human and we're all capable of making mistakes," Kat said Thursday morning on the Kevin & Bean radio show on L.A.'s KROQ-FM. "I think if I were to be crucified for my drug addiction three years ago now, it would be hard to live with that. I'm sober now, and it's awesome. But I have made mistakes, too."
Article continues below advertisement
"I've got a lot of respect for Jesse and how he handled it," she continued.
Kat, 28, explained that she has known Jesse, 41, since she was 22 years old — on the brink of expanding her career.
When radio host Bean quipped that Kat is definitely Jesse's type, the tattoo maven responded, "Um... I think that I'm his type on a different level than people would assume. Just because I have tattoos doesn't mean we're the perfect match.
"I mean it's interesting because I've known Jesse for so long," she continued. "He had his show on Discovery, that's how we met. I was looking for some advice when I first started on Miami Ink. He understands what it's like to be an artist and have a trade and have stuff blow up and how to handle it and keep your feet on the ground."