NEWS
Is Kate Baking Up a Mini-Moss?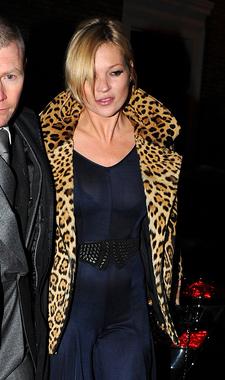 When you're as skinny as string-bean supermodelKate Moss, all it can take is a few graham crackers in your belly before baby bump rumors start hitting the internet.
But now comes a report from UK tabloid News of the World, which has been known to stretch the truth a little bit in the past, that the 35-year-old model is three months along with her second child.
According to the story, Kate and her musician boy-toy Jamie Hince are expecting their first child together in the summer, and they will supposedly go public with the announcement within the coming weeks.
Article continues below advertisement
However, another item in the <a href="http://www.nypost.com/seven/02162009/gossip/pagesix/kates_beer_fest_155390.htm" target="_blank">New York Post</a> claims the model went on a beer-guzzling binge during a recent photoshoot. So perhaps that belly bulge is indeed from a little too much Budweiser.
Take a look at this close-up of Kate from over the weekend. What do you think?
Kate is already a mom to 6-year-old daughter Lila Grace from her relationship with magazine mogul Jefferson Hack. The two engaged in a bit of a custody battle in 2007 after photos and video of Kate partaking in illicit drugs appeared in the British media.