NEWS
Kate Gosselin Catches a Taylor Swift Concert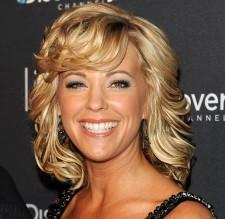 Busy at work in training for the upcoming premiere of Dancing with the Stars, reality star and mom of eight Kate Gosselin finally took some time out to spend with her kids at a Taylor Swift concert.
According to Just Jared, Kate took two of her sextuplets Leah and Alexis, both 5, to Taylor's Philadelphia concert on Friday.
KATE GOSSELIN: THE DANCING DIVA?
And even though Kate has been under the spotlight for spending so much time away from her brood to practice for the show, she still let her dancing partner Tony Dovolani tag along for the performance.
Article continues below advertisement
Also accompanying the group was the 34-year-old's bodyguard and once rumored love interest after divorce from Jon Gosselin, Steve Neild.
KATE GOSSELIN DANCES BACK & FORTH TO BE WITH KIDS IN PENNSYLVANIA
Kate will be showing off her new moves on the premiere of Dancing with the Stars on Monday March, 22 on ABC alongside cast mate's Pamela Anderson, Erin Andrews, Buzz Aldrin, and Nicole Scherzinger.